This is a bit of a "meet the maker" post. My first "Island Girl Interview" is me! So meet island girl, Nicole Gariepy of FantaSea Jewelry and learn a little more about the woman behind the jewelry. 
Q:How long have you lived on your island? 
A:This year, (2019) makes 25 years! 
Q: What made you move here? 
A: I moved here when I was in high school with my family after a nasty winter in New England. We were all tired of cold, snowy winters and everything that went along with that. 
Q: Where did you move from? 
A:North Kingstown, Rhode Island. I was born in Woonsocket, but lived in North Kingstown for several years before making the move to St. Croix. 
Q: What do you do on the island?  
A:I make jewelry! (Surprise!) I also work as a virtual coach to jewelry designers for a company called Flourish & Thrive. I love being able to help other jewelers create the business of their dreams! I have also worked as a ballet teacher, waitress and bartender on the island, but jewelry is my career. It is what I studied and has been what I have done for most of my life. 
Q: Do you have any hobbies?
A: I am a classically trained ballet dancer, and danced for many years, even into adulthood. These days, I don't do as much dancing but love hiking and yoga when I am home. I also travel and attend music festivals as frequently as I can!
Q:What is your family life like? (husband/ wife/ kids/ fur-babies)
A: I am a single island girl and couldn't be happier about that! I do share custody of my island mutt, Cucciolo and I have sort of adopted three feral cats who were just babies around the time of Hurricane Maria in 2017. Maybe they have adopted me. Their names are Runty, Sebastiana and Uncle Kitten.
This is Cucciolo >>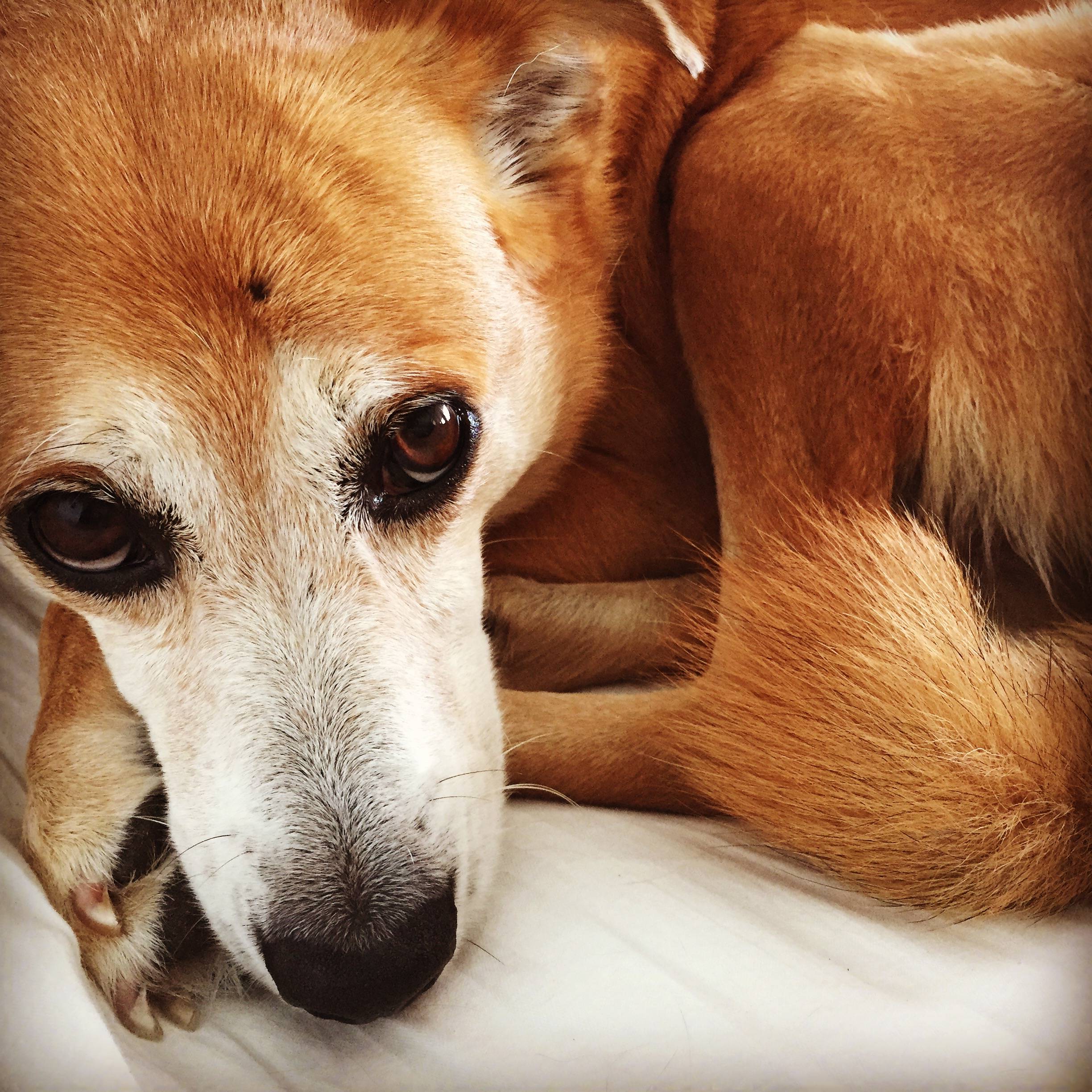 Q: What is the best piece of advice you've ever been given? 
A:"Dream so big that is scares you, if your dreams don't scare you, dream bigger." I don't know exactly here this came from, but it was totally what I needed to hear! I had a fear of dreaming big. I still need this reminder sometimes. 
Q: Who is one person who has greatly inspired you in your life? 
A: I feel like this can change a lot because I know a lot of inspiring people! One I would have to say is my favorite musician, Michael Franti, who spreads an awesome messages of kindness and positivity. Also, my business mentor Tracy Matthews of Flourish & Thrive, who has inspired me to really get out of my comfort zone and make things happen. Lastly, my dear friend, Kellie Greene who has shown me how to dream big and to take risks to keep life from escaping! 
Q:What is your favorite piece of jewelry and does it have a story? 
 A: My favorite piece of jewelry changes a lot! However, one piece that is really special to me is one that I repurposed from two separate family heirlooms. It is my maternal grandmother's wedding band and my paternal grandmother's diamond. I put them together in this necklace so I can keep both close to my heart. My mother's mother passed away over 20 years ago and my father's mother died before I was born.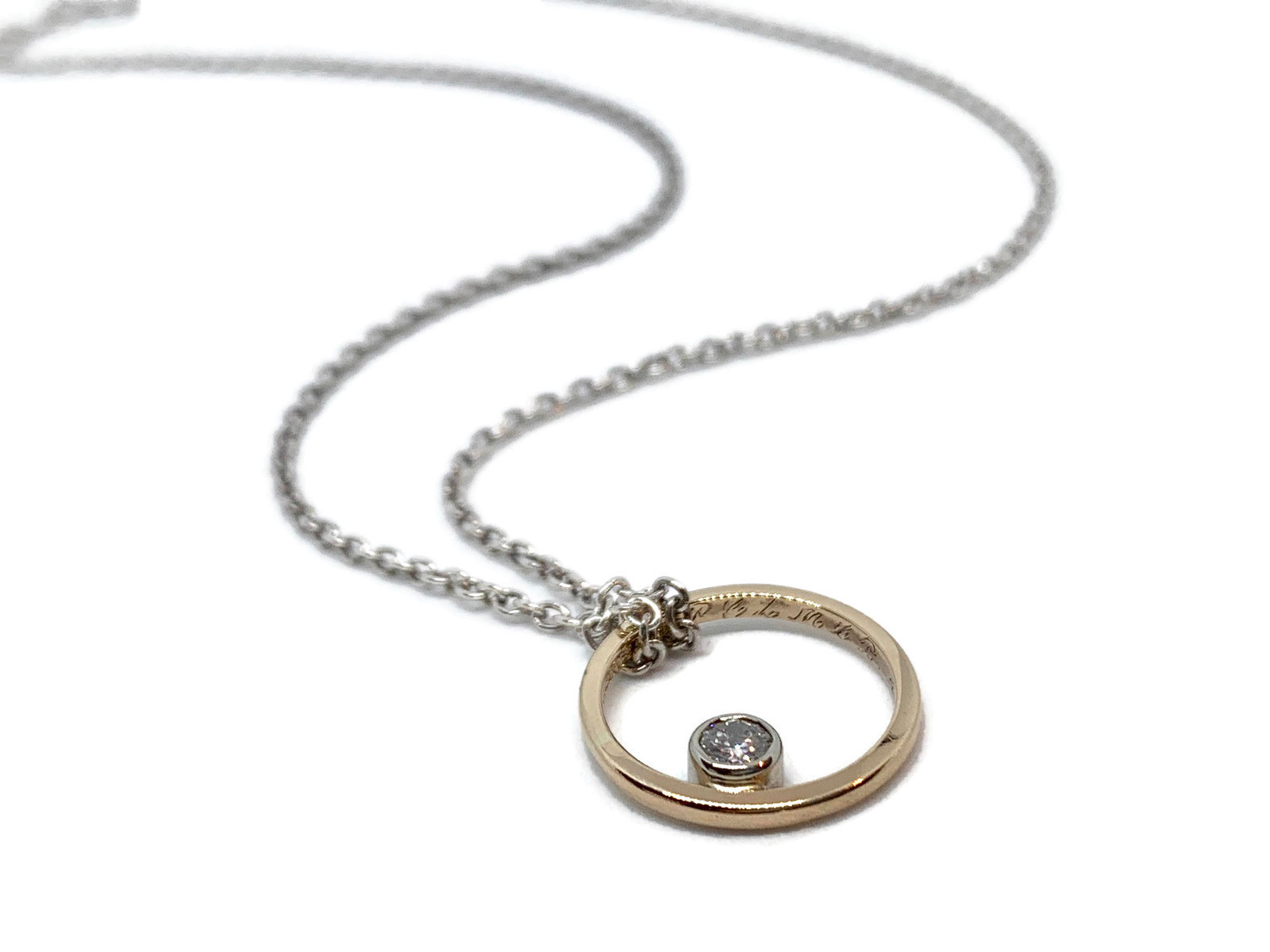 Q: What is one piece of jewelry you've always longed to own? 
A:Hmmmm. This one is tough, since I have mostly created the pieces that I really wanted to own myself. Probably a really nice piece of alexandrite in a simple ring mounting - like a platinum bezel setting - so I can always look at it and admire it! I'd also love a rose cut moissanite ring. Maybe that will be the next big piece I make for myself! 
Q: What is your passion project or something you are totally fired up about? 
A:This is definitely one of those things that changes! I have had many passion projects in my lifetime. I am really passionate about movement therapy and healing trauma through body movement. I also really want to inspire more people to live their passion and find their joy. Life really is too short to be unhappy!
Q: What is one really fun and unique fact about yourself?
A:I've been skydiving ten times! I am far from an adrenaline junkie, but found skydiving to be a very spiritual experience. I am all about the canopy part and floating down to earth like a bird. The freefall is cool too, but I love the serenity of parachuting back down to earth.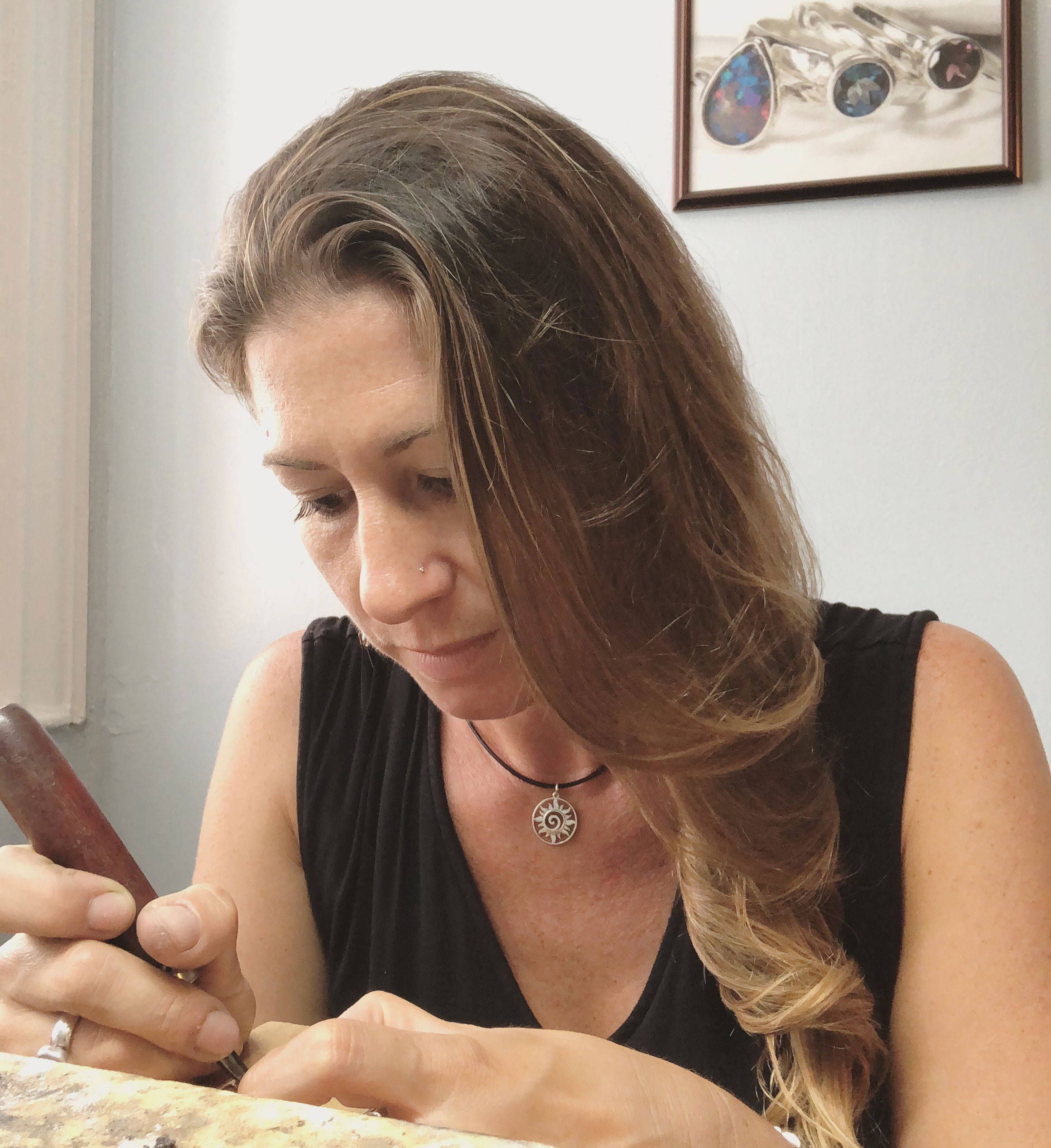 When Nicole is not making jewelry or traveling for music festivals, she enjoys hilly hikes on the island, yoga along the water, beach meditations and lots of quiet time spent in nature (most likely dreaming of her next vacation). 
You can find Nicole right here at FantaSea Jewelry! Email nicole@fantaseajewelry.com with any questions you may have about her work or to inquire about a custom design. You can also follow her on Instagram @nicolegariepy.